Rona Andrews Antiques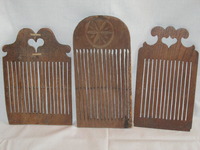 Rona L. Andrews
|
12 Russell Rd. #203 Wellesley, MA
|
435-640-0701
|
andrewsrona@hotmail.com
ITEMS AVAILABLE UNTIL JUNE 26, NEW ITEMS WILL BE POSTED FOR JULY. See you at the Wells,Maine Antique show this Sunday June 25! Look for me year round at Thos. Bartlett Antiques in Chichester, NH, Out of the Woods Antiques in Goffstown, NH. and Blythe House Antiques in Wiscasset open now thru mid October, My selling policies through this on-line shop include: accepting check or money order only - I do not use paypal; shipping only in the US; If shipping to a MA address, MA tax will be applied unless a MA tax resale number is given; Your satisfaction is guaranteed. Customers may return items in the same condition as they are received within 72 hours of delivery for a full refund when the item is returned and condition verified. Please call me at 435-640-0701 before returning any item. Thank you for shopping with me
---
16 blocks in red and white from 1890-1900 in a little 6" 1940 berry box.
Price: Price: $115 plus shipping
2017-Jun-11 08:04pm EDT
| Tags :
---
Little rectangular covered paperboard box in brown wallpaper with an early colored picture of a farmer leading a wagon 5" x 3" x 2". There is some wallpaper loss as expected.
Price: Price: $95 plus shipping
2017-Jun-05 05:07pm EDT
| Tags :
---
Super little red knit baby socks from early 1900s. Mint condition - 12" top to toes. Knit little striped heels and toes.
Price: Price: $55 plus shipping
2017-May-29 02:53pm EDT
| Tags :
---
Dig Antiques assumes no responsibility for the items listed for sale on DigAntiques.com. Any transactions as a result of items listed for sale through this Shop is strictly between the Shop and the Buyer. Please read the Dig Antiques Terms of Service for more information.