Dirt is Not Patina
Written by Guest Columnist: Pat Martin
After setting up at a recent New Hampshire show, Bob and I spent a super evening with Tom and Sheila Baker, owners of Baker & Co. Antiques and Dig Antiques, and Gail Laird & Rob Kowalski, who share partnership in Halliday House Antiques in beautiful Napa Valley, CA. And whenever dealers of antiques get together, what do they talk about? Certainly not the weather, politics or religion. Our inevitable discussion of antiques came around to acceptable conditions of the pieces we sell, and Rob said, "I'm having a tee shirt made, and it's going to say "Dirt is not patina!" We all thoroughly appreciated that one. Dirt is not patina, despite what you might have been told!
I began thinking, just what is patina? Brittanica Dictionary defines it as being "...an aspect of the surface....giving evidence of antiquity; hence, any surface of antique appearance." Hmmm...to me, that doesn't help much. "Resources for Beginners...Antiques" defines patina as, "...a surface appearance of something grown beautiful, especially with age or use, which adds value to an antique or collectible and should not be cleaned." Details, please. MacMillan Dictionary defies Rob and a good many of us dealers with this definition: "...(patina is) a thin layer of something such as dirt that covers an object or a surface." Really?
If I were a beginning collector, I would be mislead by any of the definitions above. I think, in simple words & phraseology, patina is the mellowing and smoothing out of signs of use and age in any object. Patina is the glow of the oils of human hands, the whisk of fabric polishing, the press of material to material, that soothes any ding or bump or flake or chip or hairline or crackle or whatever that may happen to the surface of any object over a period of time.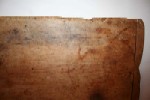 For instance, take a look at this wonderful old cutting board (right) we just found at a local country auction. The board is covered with knife cuts, with pings and dings, with hot pot stains. The edges have been mangled, maybe by a hungry little mouse or by just banging the board around. But time has been kind and has soothed the hurts. None of the knife cuts are sharp-edged; the stains have developed a vagueness that only time can give; the battered sides have been smoothed so that they are no sharper than soft crests of waves on a lake.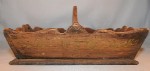 This period Chippendale cutlery tote shows us the same sort of patination to its wood. The carved edges that once were so distinctive of the Chippendale form are now worn down to a swirly beauty. You won't find a sharp edge on the piece. Time has soothed the flaws and left a glow.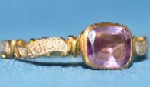 And look at this ring, which dates to 1786. It is made of 18k gold. The higher the gold content of metal, the softer is the metal. 18k is quite soft, and if you look closely, you'll see lines in the gold where the ring may have been banged against a hard surface, and you'll see a ding here and a ping there. None of them have the sharp edges of recent exposure to anything abrasive. Any imperfections have been rubbed smooth and therefore, to those who understand that a valued piece will not come through the generations untouched, these imperfections are completely acceptable. The dings and pings and lines show actual use and the softening of them shows actual time that has passed, and this patina serves as proof of antiquity. It cannot be reproduced. Not well, at least. You'll see this sort of patination of metal a lot in platinum, which is pure and thus, very soft. In platinum, the development of patina makes the metal glow beautifully and enhances the beauty of the piece.
Patina, I suppose, can be defined as well by what it is not, as by what it is. Patina is not a series of jagged, sharp knife edge marks to show use; it is not a rusty surface that has the same amount and type and color of rust overall. Rust develops erratically and is rarely if ever even throughout a piece. It is not a chip or flake or crack that shows the interior material as being clean or bright; there will not be that great a tonal contrast between exterior surface and the interior surface shown by the flaw. Patina is not a group of dings that are clean cut and hard-edged. Patina is not sharp-edged; it is not outlined to any exactness by its perimeters. And patina is not dirt. (With thanks once again to Rob!)
Search for patina on Dig Antiques and see some wonderful examples!

About Pat Martin
Pat Martin owns Home Farm Antiques with her husband Bob. They specialize in investment quality 18th through early 20th century Americana, decorative arts, folk art, antique fine jewelry with a special interest in sentimental pieces, textiles and period costume. Home Farm Antiques is a member of VADA, NHADA, and APS.
Dig Antiques Continues to Grow
We had the delightful experience of once again being at multiple antiques shows in NH and NY during August. We enjoy seeing old friends (dealers and clients) and making new ones. At the shows, we always take the opportunity to talk about Dig Antiques with dealers and collectors. This year, many folks knew about Dig Antiques not from having met us before but from elsewhere. It was a delight to hear folks mention how much they use Dig Antiques and how they use it:
Dig Antiques comes in handy when you're home and when you're out antiquing since it works well on your smart phone too.
This month we've had two new Shops open on Dig Antiques, Stone Soup Antiques Gallery and Apples' Palette…Uncommon Objects. M. A. Apple had this to say about her experience with opening her Shop: "The site was VERY user friendly - the FAQ were right there when I needed them, and I think my "shop" looks good - thanks to your simple format and great support." We hope that you are checking out all the Shops. If you are considering having an online outlet for your antiques, please check out opening a Shop!
Lastly, we are excited about exhibiting at our first show in Pennsylvania. On Sept 10-11 we'll be at the 29th Annual Tinicum Park Antiques Show in Bucks County. We hope to see you there… we'll have new Dig Antiques bags to give away!
Sincerely,
Tom & Sheila Baker
diginfo@digantiques.com

We Dig It...do you? Dig Antiques - Real stuff without the fluff.