Rocking Away the Summer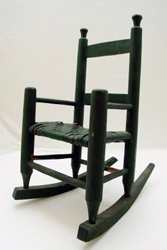 Rocking chairs have been a constant and comfortable part of our lives since the 18th century. The very name conjures up visions of peaceful summer afternoons on the porch with a glass of lemonade handy or a cozy winter evening in front of the fire. Babes in their mother's arms have been rocked to sleep for generations in "nursing" rockers, simple low rocking chairs that are frequently armless. Children have always had their own small versions of mom and dad's rockers. And there are doll size rocking chairs for a child's play time. Why should the grown-ups have all the fun!

Evidence indicates that the rocking chair was invented in the American colonies. Rocking chairs were certainly popular by the early 1800s, when several early British travelers' accounts described—sometimes with disdain—the chair that could be "found wherever Americans sit down," as Frances Anne Butler put it in 1835. During the early adoption of rocking chairs, they were mainly made by taking a simple wooden country chair and attaching the legs to rockers. Simple slatbacks and windsors, if they didn't start life that way, became rockers as news of this relatively new comfort spread. The earliest rocking chairs often had thick, tall rockers that extended equidistantly behind and in front of the chair legs. As the 18th century progressed, the rockers tended to extend further behind the chair than in front and became narrower and more graceful in shape.

Styles of rocking chairs varied greatly from the simplistic look of the Shaker rockers with tape seats to the late Federal era chairs with beautiful fruit and flower stenciling painted and gilded on the back panel such as on the Boston and Salem rockers. The Victorian era brought softly upholstered pieces, later ones with spring seats, that you could sink into and wile away the hours in total relaxation. Platform rockers, chairs that through a spring mechanism rocked only in the area atop their built-in "platform", were very common in Victorian parlors. Because the base itself did not move, they didn't cut into and wear the carpet. Oak press-back rockers became popular around the turn of the 20th century as did the hefty mission oak variety.

Still popular today in many sizes, shapes and forms, rocking chairs are found in the living room, bedroom and playroom. They are also a staple of front porches where we happily rock our summer away.

Search for rocking chair, rocker, and doll rocking chair, or add in a particular color or style such as green rocking chair or windsor rocker and research the variety of rocking chairs available on Dig Antiques.
Thanks to Caron Akeley for substantial contributions to this article.
Additional Resources:

Antique and Vintage Rocking Chairs, Collectors Weekly.
How to Appraise Antique Rocking Chairs, eHow.com.
Buy American
Written by Guest Columnist: Lyn Andeen
On a recent trip to a local department store I was chagrined to see my husband in the isle holding up a pair of ladies red underpants.  All I could think of was my neighbors seeing him and thinking who knows what.  It turned out he was looking for products made in the USA.  After quite a lot of investigation, all he could find was a belt and a pair of socks.
On a recent trip to the South West I was looking to purchase Native American jewelry.  You can't get any more American than that, RIGHT?  Wrong!  I was warned that some of the very expensive jewelry I was seeing were knock offs made in other countries.
I have also recently seen that home décor trends are showing "American Vintage".  That would be great if that was what people were buying.  But, looking at websites selling these so called items, they are neither American nor vintage.
I have specialized in antique American country and antique English transferware and accessories for many years.  I see no reason not to collect whatever you like BUT calling something that is brand new and not made in the USA, "American Vintage" is wrong. I have had a guideline for purchasing antiques for as long as I have collected. First, buy what you like; second, follow your gut; and third, buy what is old.

I know most people say that you should buy the best example of whatever you collect.  That is surely a good piece of advice.  I however would rather have an old wooden painted bowl with an old repair than one in great condition with questionable paint or age.  Sometimes we see things that are too good to be true. If you think something just doesn't feel right, move on.

Not to be a hypocrite, I am not walking around in just a belt and a pair of socks. But when it comes to antiques I do prefer those made in America or those made for American import in colonial times. With Labor Day just around the corner wouldn't it be nice to go out and buy something that is truly American made or American Vintage?
About Lyn Andeen
Lyn Andeen has been an avid collector and dealer for the past 28 years. She has been in group shops, setup at countless antique shows and has a true artistic eye. Lyn's passion is for quality 18th through early 20th century Americana, decorative arts, Shaker and folk art. You can find Lyn online through Andeen Antiques.
Celebrating 1,000,000 Searches!
Dig Antiques recently celebrated it's one millionth search. This is a major milestone achieved in just 2 1/2 years. During Antiques shows this summer, we met many folks that regularly use Dig Antiques for searching, enjoy viewing the Shops and reading the newsletter (back issues can be found here.) We would like to thank you for your support of Dig Antiques and of the Shops on Dig. If you find something through Dig Antiques, please let the dealer know!
We would also like to give a special thanks to our Dig Antiques sponsors that support us by advertising - either with featured ads, banner ads or search prioritization. These are the folks that make Dig Antiques possible. Please take time to visit with them and let them know you saw them on Dig Antiques! Current sponsors are:
If you are a dealer benefiting from using Dig Antiques for research or for referral sales, we ask that you consider supporting Dig Antiques through a sponsorship. More information can be found here.

We hope you have had a wonderful summer and that you also found time for relaxing - whether in a porch rocker or other wonderful spot. We feel blessed that we'd had a wonderful summer filled with good friends, family and lots of antiques.
Sincerely,
Tom & Sheila Baker
diginfo@digantiques.com

We Dig It...do you? Dig Antiques - Real stuff without the fluff.

Search Showcase
Have you been digging for antiques recently?
July 2012 Top Searches
Below is a summary of the twenty most popular search phrases last month.
1. rag
2. shaker
3. hanging cupboard
4. redware
5. firkin
6. velvet
7. paint
8. clock
9. corner
10. folk portrait
11. windsor chair
12. iron toy
13. white paint
14. painted smalls
15. painted bowl
16. furniture
17. country smalls
18. table
19. basket
20. blue paint