For My Antique Heart
With Valentine's Day upon us, everywhere we turn we see hearts. While much of the general population focuses on hearts in February, those of us into folk art and Americana, love hearts all year round. Folk art from the 17th – late 19th centuries has a number of traditional symbols including stars and animals. But the heart is one of the most prevalent motifs, symbolizing secular and religious love, friendship, loyalty, compassion and devotion.

The first known heart drawing was found in a cave painting of Cro-Magnon man where it symbolized a goal – capture the heart of a powerful enemy and the power would become yours. Most every ancient religion and culture included the heart as an important symbol, often as the soul, the spirit, the center of the body and of life.  In Middle English, "heort", "herte" and "hart" were three common spellings. By the Middle Ages, we see cultural transformations across Europe in language and the arts and the heart design began to take on hints of what was to come.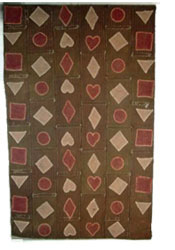 Although generally we think of hearts as flourishing in America after the Revolution, there are examples prior to then. A 1674 tombstone in Charlestown, MA was carved with a heart. A heart was found on a 1682 weather vane from the roof of the second meetinghouse in Lynn, MA. The first known American sampler, from the 1640s, by Lora Standish, daughter of Miles Standish, refers to the heart in verse.

In eighteenth century American folk art, the use of the heart really exploded. Hearts were used to decorate for major life events: birth, marriage and death. Young girls stitched hearts on samplers and quilts; tinsmiths decorated the simplest household objects such as footwarmers, and cheesemolds; potters included them on stoneware and etched them into plates; ironmongers shaped kitchen utensils and sailors incised hearts.

By the early 1800s, the heart became increasingly associated with sentimental emotions representing romance and friendship. Simply put, the heart became ubiquitous as a personal expression of both men and women and often given to each other as a very personal expression of friendship and affection.

The heart-in-hand symbol, a heart in an open palm, is most often associated with the Shakers as a pictorial reminder of the words of Mother Ann Lee, the founder of the Shaker sect, "Put your hands to work, and your hearts to God." But, it was also used by the Amish and the Independent Order of Odd Fellows, a fraternity.

Today our American folk art collections overflow with hearts of every form imaginable.

Search for folk art with hearts on Dig Antiques.
Additional Resources:
Folk Hearts, A Celebration of the Heart Motif in American Folk Art, Cynthia V.A. Schaffner and Susan Klein, Knopf, 1984.
Have a heart-shaped Valentine's Day, Susan Holland, Westside Eagle Observer, Feb 8, 2012.
Mary Emmerling's American Country Hearts, Mary Emmerling, Potter, 1989.



It's Raining Cats and Dogs
Written by Guest Columnist: Lyn Andeen
For those of us in the South or far West, it has been more like spring than winter.  For those in the North, it's a time of anticipation of the spring.  Although springtime conjures up visions of flowers and sunshine there is also that darn rain.  I love the sun and dread the dreariness of rainy days.  So in keeping with making lemons out of lemonade, I will focus on raining cats and dogs.  Boy, am I reaching to get to one of my favorite collections:  animals.
There are so many great collections that feature all kinds of animals. Transferware, Staffordshire, and ceramics in general feature anything from zoological figures to farm and woodland animals and birds. The Amish have also made wide variety of cloth animals.
Although I love all of these, maybe because of my love of my pets, past and present, cats and dogs are my favorite.  As I stroll through the house I can find peeking out of every corner a feline or canine friend.  There are cloth and Staffordshire dogs and cats, tiny collections of metal dogs, doorstops, and cane tops.  A wide variety of textiles featuring cats and dogs abound.  From early needlepoint wall hangings to pillows, and rugs and samplers pets are immortalized.
For those dog lovers I would recommend the book "Living with Dogs: Collecting and Traditions, at Home and Afield " by Lawrence Sheehan.  For the cat lovers there is even an International Cat Collectors Club on Facebook.
Vote for Your Favorite!

Pictured below are two samples of collections.  One is of cats and dogs.  The second one is of our other animal friends.  Vote for your favorite.

Cats and Dogs

Other Animals

Do you love collecting cats and dogs, or other animals, or all of them?

You can immediately see the results of this poll and watch it change in real time.
About Lyn Andeen
Lyn Andeen has been an avid collector and dealer for the past 28 years. She has been in group shops, setup at countless antique shows and has a true artistic eye. Lyn's passion is for quality 18th through early 20th century Americana, decorative arts, Shaker and folk art. You can find Lyn online through Andeen Antiques.
Shopping Online
This past holiday season saw a 15% increase in online sales revenue for retailers of every type. Clearly we are all getting increasingly comfortable with purchasing online. Shopping online for antiques has also become much more comfortable. Sales continue to increase across the board. We had reports from a number of Dig Antique Shops that their sales were up in January. It's a great start to the new year!

For those antique dealers that do not yet have an online website or shop, we really encourage you to get onboard and open your own Shop on Dig Antiques. It is easy to use and costs only $149 for the year. Now is a great time to try it out! If you have any questions, send us an email or give us a call.

Last month we had an article was on quilts and the Underground Railroad which highlighted the doubts expressed by quilt historians on the use of an organized quilt code. Our poll asked whether quilt patterns were used as codes, signals or maps in the Underground Railroad? An overwhelming number of respondents, 72% said yes, quilt codes are real. Check Facebook in the next couple of days and join our discussion on this interesting topic.
Don't forget to check out the Shops on Dig Antiques.
Sincerely,
Tom & Sheila Baker
diginfo@digantiques.com

We Dig It...do you? Dig Antiques - Real stuff without the fluff.

Search Showcase
Have you been digging for antiques recently?
January 2012 Top Searches
Below is a summary of the twenty most popular search phrases last month.
1. portrait
2. cupboard
3. corner
4. paint decorated
5. painted
6. signs
7. lighting
8. painted smalls
9. decoy
10. signed
11. basket
12. native
13. furniture
14. clock
15. country smalls
16. blanket chest
17. country furniture
18. weathervane
19. patriotic
20. portrait miniature