Quilts and the Underground Railroad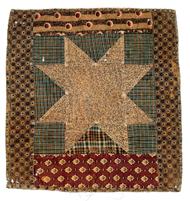 Antique quilts are extremely collectable for their beauty, color and history. Quilts vary widely in pattern, style, fabrics and condition. Each of these contributes to dating and evaluating antique quilts. Many quilt patterns have been given names such as Log Cabin, Flying Geese, Tumbling Block, Bear's Paw, Drunkard's Path and more. Some of these patterns date from the 19th century while some are later.  Quilts started showing up in America in the mid-to-late 1700s. The National Quilt Collection at the Smithsonian has an early linen quilt dated 1760. There are numerous websites and reference books on quilt history and how to date them. A particularly good book on identifying and dating quilts is Clues in the Calico.

In 1999, Jacqueline L. Tobin and Raymond G. Dobard published their bestseller, Hidden in Plain View: A Secret Story of Quilts and the Underground Railroad. The book documents discussions Tobin had with Ozella McDaniel Williams between 1993 and 1997. During these discussions, "Williams told Tobin that for generations women in her family had been taught an oral history that stated that quilt patterns — like log cabins, monkey wrenches and wagon wheels — also served as directions that helped slaves plan their escapes." (1) Oprah Winfrey popularized the book on her show and the story took off. In less than ten years, this one story became the basis for numerous elementary school lesson plans and is repeated as fact in countless other places.

Historians however are wary of the claims. They have found no other corroborating evidence apart from the stories told by Williams. During the 1930s, thousands of interviews of former slaves were undertaken by the Federal Writers' Project. No mention of any type of quilt code was found during these interviews. Accounts taken from the nineteenth century directly from slaves also lacked any code mentions. In addition, some of the quilt patterns referenced as part of the code, for example Drunkard's Path and Double Wedding Ring were not created until the early 1900s while the Log Cabin pattern is from the 1860s.

According to quilt historian, Barbara Brackman in her book Facts and Fabrications: Unraveling the History of Quilts and Slavery, "We have no historical evidence of quilts being used as signals, codes, or maps. The tale of quilts and the Underground Railroad makes a good story, not good quilt history."

The authors of Hidden in Plain View contend that too much has been made of this one family's story. But just as the myth of George Washington and the cherry tree persists, it is likely that this myth will continue as well.

Search for specific patterns such as log cabin, drunkard's path, bear paw, monkey wrench, flying geese or just generally for antique quilts on Dig Antiques.
Additional Resources:
(1) Unravelling the Myth of Quilts and the Underground Railroad, Time Entertainment, April 3, 2007.
Did Quilts Hold Codes to the Underground Railroad?, National Geographic News, October 28, 2010.
Putting it in Perspective: The Symbolism of Underground Railroad quilts, Kris Driessen, Quilt History.
Quilts Debate, Email from Jacqueline Tobin to Beaverton School District, 1999.
Pathways to Freedom: Maryland & the Underground Railroad, Maryland Public Television.
Betsy Ross Redux: The Underground Railroad "Quilt Code", Leigh Fellner, Dec 2006.
Underground Quilt Code, Owen's Sound Quilt History, 2004.


Good Things Come in Small Packages
Written by Guest Columnist: Lyn Andeen
Some of us have limited space for collecting. Whether we live in limited square footage, have run out of space, or are downsizing, there is a great solution: Almost all of our collections have miniature counterparts. Even the smallest apartment can find space for these tinys.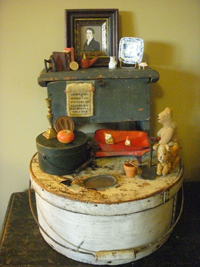 I have collected some of these not because space was a problem, but because they were wonderful country examples. These collections give a whole new slant on downsizing. No need to feel deprived. There is plenty of opportunity for hunting at shows, shops, and on line.
A great place to start is with toys and children's items. Other good sources are salesmen samples and patent models. There are lots of early miniatures in traditional country also. Many of these are very highly prized.
From pantry boxes to books, samplers, and baskets, you name it these teeny tinys are out there. So, start thinking small.
A picture is worth a thousand words!

About Lyn Andeen
Lyn Andeen has been an avid collector and dealer for the past 28 years. She has been in group shops, setup at countless antique shows and has a true artistic eye. Lyn's passion is for quality 18th through early 20th century Americana, decorative arts, Shaker and folk art. You can find Lyn online through Andeen Antiques.
Uptick in Antique Investing in 2012
As 2012 is getting underway, our last poll asked whether you expected to spend more, less or the same on antiques in 2012. More than half the respondents, 53% , are expecting to spend more in 2012 than they did in 2011. It is exactly split, 24% each, are expecting to spend the same or less in 2012. We are really pleased to see that people are more upbeat about spending money in 2012 with over three-quarters of the respondents expecting to spend at least the same amout as they did in 2011. View the exact poll results here. Thanks for participating.

This month's poll is asking:
Were quilt patterns used as codes, signals or maps in the Underground Railroad?
This month's article on quilts and the Underground Railroad came about because our daughter is student teaching in fifth grade. She was doing a unit on the Underground Railroad and one of the lesson plans was about the quilt code. She wanted to know if we had a quilt with one of the codes on it that she could bring in to show her class. We thought it would be an interesting article for the newsletter, not realizing just how interesting it would become! Fact or myth, it does make collecting quilts just a bit more interesting.
Don't forget to check out the Shops on Dig Antiques. Now's a great time to open your own Shop, for just $149/year, it's a bargain.
Sincerely,
Tom & Sheila Baker
diginfo@digantiques.com

We Dig It...do you? Dig Antiques - Real stuff without the fluff.

Search Showcase
Have you been digging for antiques recently?
December 2011 Top Searches
Below is a summary of the twenty most popular search phrases last month.
1. portrait
2. corner
3. patriotic
4. cupboard
5. amish
6. paint decorated
7. painted
8. apothecary
9. painted smalls
10. vermont
11. basket
12. signed
13. decoy
14. signs
15. lighting
16. furniture
17. virginia
18. paint decorated box
19. pewter
20. clock