Back to School
Written by Guest Columnist: Lyn Andeen
It's hard to believe but, for many, back to school is right around the corner. Growing up in New England, we didn't go back to school until after Labor Day. My grandchildren will be going back the 3rd week in August.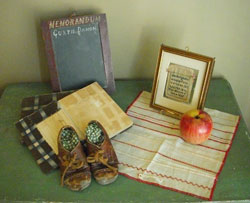 Early school items make great country collections. I love those very early leather bound books, and especially the early calico cloth covered school books.  Just a note to novice collectors: It is a good gauge of authenticity if you can see the imprint or shadow of the fabric pattern on the inside cover paper.

Early blackboard slates are a nice addition. Look for those earlier wooden edged ones with great patina. Some even have paint.

Then collecting the school girl samplers and needlework is boundless. In those early days young girls were taught every conceivable form of handwork. Girls were not only taught embroidery like the coveted samplers but also handmade button holes, French seaming, featherstitch, bargello, flamestich (love that), blind mending, knitting, tatting, crocheting, etc. Some even have the girl's names and school on them. Early examples of these works enhance any collection.

I also consider children's clothes and shoes as part of this collection. I especially like those well worn shoes with toes that have been scuffed from the long walk to and from school. No buses for these kids!.

Collecting is so much fun.  Displaying these collections for everyone to enjoy seems like a fitting way to celebrate past school days and a great way to teach the little ones what school was like before computers.
About Lyn Andeen
Lyn Andeen has been an avid collector and dealer for the past 28 years. She has been in group shops, setup at countless antique shows and has a true artistic eye. Lyn's passion is for quality 18th through early 20th century Americana, decorative arts, Shaker and folk art. You can find Lyn online through Andeen Antiques.
Uniforms of the Civil War
Hollywood has often depicted Union and Confederate soldiers in consistent uniforms with dark blue for the Union and gray for the Confederacy. But a trip to Gettysburg or other Civil War museums shows the variety of uniforms worn during the course of the war.
Early in the war, uniforms added a bit of a chaotic element to a battle. The northern states were told to dress their own companies which resulted in a wide variety of style and color. For instance, in the First Battle of Bull Run, Union troops fought in French Zouave dress, tartan Scots caps and trousers, and cadet-gray outfits matching many Confederate designs. Several Northern prewar militias with strong ethnic rosters adopted military dress styles from their homeland. So the Garibaldi Guard of New York City wore an Italian-style uniform featuring a broad flat hat adorned with chicken feathers. While a unit made up mostly of French immigrants wore an Algerian campaign uniform. Confederate soldiers in this early battle wore uniforms that closely followed the Union design. This meant that soldiers were shooting at others on the same side as they were!
Standard Union uniforms were made of wool and varied based on rank – infantry officers and enlisted men wore dark blue frock coats hanging to mid thigh; majors, lieutenant colonels, colonels, and all general officers coats were double-breasted. Those ranking lower wore single breasted frock coats. The number of buttons also distinguished rank. Buttons featured the US eagle and originally had letters denoting the soldier's branch of service: I for infantry, C or D for Cavalry and A for artillery but this was done away with early in the war to cut costs.
At the start of the war, the US Quartermaster was unable to make uniforms fast enough. Contractors were given general guidelines for the uniforms but the exact pattern and color would vary. There were issues with shoddy materials and workmanship so Congress passed a law in January, 1862 requiring contractors to mark their products. The US Quartermaster also started providing the contractors with the materials needed to make the uniforms.


Many of the 100,000 Confederate volunteer soldiers started the war wearing the uniform of their individual militias – some of which looked like the Union uniforms. The new Confederacy had a challenge—plenty of raw cotton but no way to manufacture cloth since all facilities were in the north. The material was typically a cotton-wool blend. Gray was chosen for Confederate uniforms because gray dye could be made relatively cheaply. The gray often quickly turned brown.

In early 1862, the depot system was established by the Confederate Quartermaster. This enabled the mass-production of uniforms for a region. However, each of the depot uniforms had variances so there was not uniformity across all units. In the last 12 months of fighting the Confederate forces were consistently well-uniformed wearing clothing made of imported blue-gray cloth, used by the British Army and manufactured in Limerick Ireland, by Peter Tait specifically for the Confederacy.

Finding original Civil War uniforms in good condition can be a challenge. The uniforms were well worn during the war leaving many infantrymen wearing tattered cloth during the battles. A uniform in good condition that can be associated with a specific soldier is extremely rare.

Besides the wool uniform, Union troops were issued a belt set that included a cartridge box, cap box, bayonet and scabbard, a haversack for rations, a canteen, and a blanket roll or knapsack which contained a wool blanket, a shelter half and perhaps a rubber blanket or poncho. Inside was a change of socks, writing paper, stamps and envelopes, ink and pen, razor, toothbrush, comb and other personal items. Confederate soldiers travelled considerably lighter as they were not issued all of the accessories. For both the North and the South, each soldier was expected to provide his own eating utensils.

Search for Civil War on Dig Antiques and find a wide variety of Americana.
There are many references available on the Civil War and specifically about uniforms. Here are some favorites:

Camp Life: Civil War Collections, National Park Service Museum Management Program.
Article IV – US Infantry Frock Coat, The Civil War Antiques Preservation Society,
Clothing of the Civil War Soldiers, CivilWar.com.
Civil War Uniforms of the United States Military, Shotgun's Home of the American Civil War.
Uniforms of the Confederate States military forces, Wikipedia.
Uniform of the Union Army, Wikipedia.
A Union Soldier's Uniform from the Civil War, around 1865, Memorial Hall Museum's American Centuries. Great interactive site!
National Park Great Places to Learn
As we drove from California to New York, we took the time to visit a couple of National Parks. The Grand Canyon was beautiful and Gettysburg was amazingly informative. We certainly studied the Civil War in school, but that was a few years ago. Gettysburg reminded us of the magnitude of the war - 620,000 killed, injured or missing!
As lovers of antiques, of course the part we really enjoyed was the museum with the stories and artifacts from the Civil War. We saw uniforms and other textiles, a wide variety of regimental flags, guns and other accessories. We were surprised at the variety of uniforms worn, which is where the idea for this month's article came from. We hope you enjoyed it.
New Hampshire and New York in August
During August, you can find us, along with Dig Antiques tote bags at the following places:
If you stop to visit with us, you will receive a Dig Antiques tote bag at no charge! Just let us know you would like a reuseable bag.
Search for Antiques to find exactly what you are looking for and/or
Open your Own Shop on Dig Antiques!
Sincerely,
Tom & Sheila Baker
diginfo@digantiques.com

We Dig It...do you? Dig Antiques - Real stuff without the fluff.