History of the Christmas Feather Tree
Written by Guest Columnist: Cindy Adams
The history of Feather Trees being used at Christmas is really just one ornament in the continuing Christmas celebration at large. Feather trees became a matter of necessity in 19th century Germany. Christmas trees had been a tradition in Germany for hundreds of years, but de-forestation was becoming a problem and a new type of tree was needed and the feather tree was the solution to the problem. But first, a small history of Christmas trees in general is interesting and a fun side trip during this Holiday Season.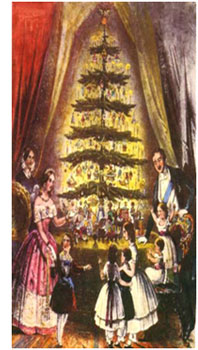 Germany is credited with the first modern day Christmas celebrations. Outdoor community trees first appear in the 16th century in the Alsace region of Germany. The first indoor decorated tree appears in Strasbourg, Germany in 1605. It was decorated with paper flowers, fruit, and gold spangles.  Sixteenth century Protestant reformer, Martin Luther is credited with bringing light to the tree. Legend has it that as Luther was returning home through the forest one evening, he was enthralled with the stars shimming through the evergreen trees. Once home he placed candles on the boughs of his children's tree and recaptured the light in their home. Thus began the German tradition of candles on their trees.

Queen Victoria and Prince Albert brought to England, and soon all of Europe and America, the practice of decorating a Christmas tree.  Prince Albert was originally from the Saxe- Coburg region of Germany and brought to the throne his family's German traditions. He first decorated a tree at Windsor Palace in 1841 for his son's birthday. The royal family loved this Christmas tradition and celebrated this way every year. In 1848 an engraving of the royal family around their tree was published in the "Illustrated London News" and a much larger era of Christmas decorating and celebrating was born.  Soon every family in England had a tree in their home decorated with nuts, fruits, candies, cookies and toys.

By the later 1800's Germany was faced with a deforestation problem. Tops of trees were cut off for the annual event which left the trees unable to grow and of no use for the timber industry.  Laws were enacted which allowed only one tree per family, but still the need for another form of tree was necessary. From this necessity, the feather tree was fashioned. For hundreds of years the season of Advent, the four weeks prior to Christmas, found towns and villages celebrating with Christmas markets or "Christkindlemarkt".  The markets where filled with individual families selling their decorations which they had spent the previous year making. From these cottage industries grew all manner of Christmas ornaments and among them was the feather tree.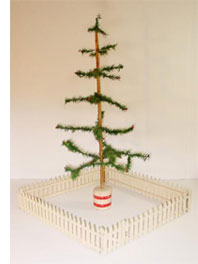 Goose, turkey, and swan feathers were a plentiful commodity on the farms and easily transformed into Christmas trees. Feathers were dyed green and wired to wooden sticks and then drilled into a dowel into the shape of a typical white pine German tree. Artificial red berries were attached onto the ends of some branches and wire candle holders adorned others. The branches were placed some distance apart so ornaments were easily hung and admired and lit candles would not burn other branches. Both round and square bases were used to secure the trees and early trees were all table-top size. Not until Americans really start to decorate was it common for trees to be placed on the floor.

The American market was first introduced to feather trees by German immigrants in Pennsylvania and Texas. These immigrants brought their trees and traditions across the oceans and opened up a much larger scale of Christmas celebrations here in America. In the later 1800's the Woolworth Company started to import decorations and feather trees to the US market and in 1913 Sears and Roebuck catalog offered the trees for sale to its customers. These sales continued until World War II.  Following the war, feather trees lost favor as other artificial trees became popular and were imported from other countries.

Today original feather trees are again popular to collect as their unique and historic value is appreciated. The trees remained predominantly green, but occasionally a white tree would appear. With time, the colors branched out into gold, silver, and blue. Feather trees come in many sizes from a few inches to the rare six or seven foot tree. Finding one in its original box or mailing tube is always a treat. As fragile as these items are, they can still be found in wonderful condition. Since Christmas is but once a year, ornaments and trees where stored away and taken out to be admired by new generations. Stories retold and new hands to hold and touch the treasured heirlooms, traditions continue with time honored grace. Build some traditions of your own and may they always be merry and bright.

Merry Christmas!

Find feather trees and other Christmas decorations on Dig Antiques.
About Cindy Adams
Cindy Adams grew up in the Midwest attending farm sales with her parents. She loved history and research, earning a college degree in history and becoming an antique dealer. She particularly loves American historical items, but the history and art of early German Christmas items is a special area she really enjoys. You can find Cindy online through Mountain Lodge Antiques.
Hot for the Holidays
Written by Guest Columnist: Lyn Andeen
I just finished the Country Spirit Antique show.  I had a great show and I can tell you what a hot seller was for the holidays: Nostalgia!
Many of my buyers are of my same generation and were buying those Christmas collectables from the 50's. Bottle brush trees, both decorated and plain went fast. I also sold lots of Japanese cardboard Christmas houses and printed and mesh Christmas stockings. Those pinecone elves and Santas also went. Wax figuratives were also hot.
Of course other earlier Christmas items sold. Those German sheep sell year round. Early spun cotton ornaments and glass figurative string lights were among those purchased for collections. Those items associated with winter were also in high demand. Red mittens and stockings as well as their stretchers were scooped up. Harking back to our childhoods, toys are especially desirable at this time of year. Who doesn't love a cuddly Teddy or a well loved rag doll?

All this Christmas talk has made me nostalgic. Time to dig out my own collections and let the decorating begin!

Happy Holidays to You and Yours.
About Lyn Andeen
Lyn Andeen has been an avid collector and dealer for the past 28 years. She has been in group shops, setup at countless antique shows and has a true artistic eye. Lyn's passion is for quality 18th through early 20th century Americana, decorative arts, Shaker and folk art. You can find Lyn online through Andeen Antiques.
So Much to Be Thankful For
Please join us in welcoming the newest shop to Dig Antiques, Mountain Lodge Antiques. We'd also like to thank Cindy for her excellent article on the history of feather trees. If you have a topic you would like to contrbute an article on, please contact us, we always welcome relevant contributions!
We are continuing our stay on the East coast for another few weeks to exhibit at a new show in West Friendship, Maryland. The new Heartland East Antiques Show on Saturday, December 8. We would like to encourage you to attend and stop and see us in Booth #61 (Baker & Co. Antiques). We'll have Dig Antiques re-useable bags which we will be happy to give you for free as a thanks for your support.
Looking for a special holiday gift? You can find unique gifts in the the Shops on Dig Antiques and by using Dig Antiques searches. Why fight the malls when a better gift with a connection to other generations can be easily found!

We have so many family members and friends that were affected by Hurricane Sandy. Thankfully, no one was injured. Most tell tales of being without power and heat —for as many as 12 days. But some have a bit more damage, for example, a very large tree coming through the master bedroom and living room, causing significant damage. Another lives in Manhattan where their building has been red tagged from severe flooding and they will not able to move back home for months. Having been in NY and NJ for the past couple of weeks, the scope of the damage is staggering—and we haven't even been to the worst hit areas. As our niece said a couple of days before Thanksgiving, she has the "Sandy hangover".

So this Thanksgiving, we are especially thankful for our family, friends and our extended "antiques" family. We hope that you and yours are safe and healthy and we thank you for being a part of our "antiques" family.
Sincerely,
Tom & Sheila Baker
diginfo@digantiques.com

We Dig It...do you? Dig Antiques - Real stuff without the fluff.