Hairwork: A Sentimental Folk Art
Written by Guest Columnist: Pat Martin
We tend to think of hairwork pieces as mourning pieces, but hairwork was more the sharing of affection rather than grief. Napoleon wore a lock of his wife's hair woven into a watch chain. Queen Victoria gave jewelry made from her hair as presents to her children. Evidence of hair jewelry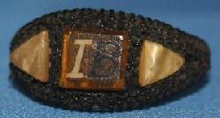 has been traced as far back as the 17th century,when bracelets were woven as love tokens by both women and men. Hair was used because it was everlasting and did not decay. In the days when there were no photographs or videos through which to feel close to loved ones, and when so many were too poor to employ portraitists, hair tokens were cherished.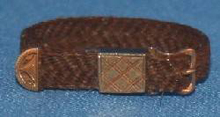 It was common practice for hairwork beginners to practice with horse hair, which is coarser, has more body and is easier to handle than human hair. Advanced workers have made beautiful and intricate weaves, plates, garlands and plumes with human hair, and have also made figural pictures. If you look closely at each of these rings, it is apparent that the horse hair in the top ring is thicker and rougher than the smooth, fine human hair in the bottom buckle ring.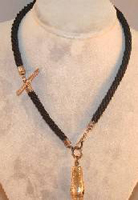 There are 3 basic techniques in working with hair. One is table work in which hair weaving is done on a table with a central hole. Hair is weighted by bobbins similar to lace bobbins and worked up through the hole, into intricate patterns. Hollow work, a type of table work, used molds around which hair was formed and then hardened to retain its tubular form. Table work is mostly found in the creation of bracelets, necklaces, earrings, rings and watch chains. Palette work is that in which hair was glued flat onto a base. It is used most often in brooches or in artwork.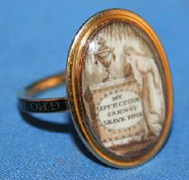 Sepia painting in jewelry and in miniatures on ivory used both silk and hair embellishments. Also, macerated hair was mixed with the sepia or inks to be used in the actual brushstrokes on the ivory. Sepia paintings could be either lovers' tokens or mourning pieces. The artwork on ivory was protected by mica in the earlier pieces, then by crystal and lastly by glass.
We are fortunate to be able to study early styles of art and acceptable practices of affection and emotion through the study of hairwork.
Search for hairwork on Dig Antiques to see some wonderful examples.
About Pat Martin
Pat Martin owns Home Farm Antiques with her husband Bob.They specialize in investment quality 18th through early 20th century Americana, decorative arts, folk art, antique fine jewelry with a special interest in sentimental pieces, textiles and period costume. Home Farm Antiques is a member of VADA, CSA, NHADA, and APS.
Here are a few interesting references on hariwork: