Pat Hatch Antiques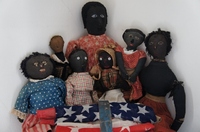 Pat Hatch
|
PO Box 793 Harvard, MA 01451
|
978 456 8729
|
pat@pathatchantiques.com
For the past 42 years I have owned an antique shop in Harvard Massachusetts, 30 miles west of Boston. I live in antique country and I am buying all the time. I specialize country furniture, textiles, 19th black and white cloth dolls and Shaker antiques. I accept checks, money orders and paypal. For any reason you may return items within 3 days of receiving them with full refund less the cost of shipping and insurance. I will be glad to answer questions and send more detailed pictures. Thanks for looking and I look forward to hearing from you. Pat Please check out my website at http://www.countryandshakerantiques.com .
---
This is a lovely very early wooden doll from Germany with original clothes. She is missing her arms but it is hard to tell. She displays beautifully.
Price: $320.00
---
This doll is made with an old clay pipe for the face and body and stuck into a spool of black button and carpet thread. Bought probably as a gift at a Bazaar in the late 1800's. The clothes are hand made, her arms are cardboard, a bag with shoe buttons hangs off her shoulder and handwritten on her apron is this verse, My name is Miss Piper I'm not a pen-wipe But if from your shoes The buttons you lose Then just come to me and directly you'll see with what skill and delight I will sew them on tight. It is 7 1/2" tall and is C. 1890. It is in very good condition with a sigh age discoloring.
Price: Sold
---
Dig Antiques assumes no responsibility for the items listed for sale on DigAntiques.com. Any transactions as a result of items listed for sale through this Shop is strictly between the Shop and the Buyer. Please read the Dig Antiques Terms of Service for more information.