Ordeshook's Antiques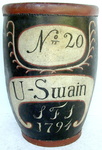 Peter C. Ordeshook
|
Carmel Rd La Canada, California 91011
|
818-952-8106
|
mordess@aol.com
I do not operate an open shop but prefer instead to treat my interest in Americana in a more relaxed manner. Indeed, my primary preoccupation is teaching at the California Institute of Technology, which affords me the luxury of pursuing a tertiary interest in American history. This feeds my interest in Americana and gives me the flexibility to pursue offering a selection of American country and formal antiques that represent the best of what we might otherwise associate with Back East tastes and design. In fact, after 40+ years of collecting Americana, with the last two and a half decades spent scouring the estate sales and flea markets of Southern California, the time has come to begin letting go. What you'll find here, then, are things from my personal collection with the occasional addition of some treasure I found in my ongoing compulsive hunting. Needless to say, there's a full "L.L.Bean-type" no questions asked guarantee on anything I sell. I do make mistakes, but I try not to pass them on to anyone. Tel #s: 818-952-8106; 818-618-7984 (cell). Email address is mordess@aol.com.
---
Offered here is this Massachusetts (North Shore or Boston) tilt top mahogany candlestand with a serpentine top. She stands 26 3/4" high, with a top that measures 23" diagonal corner to corner (appx 16 3/4" square) with an appx toe-to-toe spread of 16 3/4" to the feet. Beautifully formed with no repairs whatsoever, she bears an early and possibly original surface and is thus in original untouched condition.
Price: $1,250
---
Dig Antiques assumes no responsibility for the items listed for sale on DigAntiques.com. Any transactions as a result of items listed for sale through this Shop is strictly between the Shop and the Buyer. Please read the Dig Antiques Terms of Service for more information.