Blue Line Antiques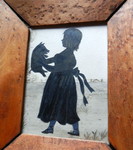 Debby and Terry Smith
|
7939 Moose River Road, Port Leyden, N.Y. 13433
|
315-348-8145
|
shop@bluelineantiques.com
Our name comes from the fact that we are located almost exactly on the so-called "Blue Line" which circumscribes New York's Adirondack State Park. We carry a broad selection of antiques, ranging from elegant British pottery to Adirondack items, primitives and folk art. Our shop is open seasonally, by appointment. We only do several shows a year and do not sell on e-bay, so we always have fresh stock. The best way to contact us with inquiries is by e-mail since we are often unavailable by phone.

Please check out our website at www.bluelineantiques.com to see additional antiques that we have for sale.

We have a 72 hour return policy. In the event you are dissatisfied for any reason with an item you have purchased, you need only notify us of that fact within 72 hours after delivery, pay the shipping and necessary insurance costs and return it promptly to us. Provided its condition is unchanged, we will immediately refund the purchase price. If you believe we have not described the condition of the item accurately, please contact us to discuss the problem. If we feel you are correct, we will be happy to pay or refund return expenses.
---