Polly's Americana Antiques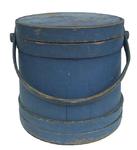 Polly Minick
|
566 Vintage Reserve Lane 21-C, Naples, FL 34119
|
239-354-2549
|
pollyminick@icloud.com
Thank You for the nice Sale yesterday - appreciate your loyalty! Next Update will be May 5th, Sunday at Noon EST As I said, I am running out of items to list - I have pretty much gone through what I am no longer using. I will have a nice update May 5th - most will be patriotic or related to spring, as it will be the beginning of our patriotic holidays soon and First Day of Spring. So lots of great items to list: many patriotic items, and some great items that say spring - sand pails, flags, planters, buntings - so check in, I will send reminder. Again, Thanks
---
Have looked for a blue shelf for 3 years - no luck So I decided to hang one of my child or salesman sample cupboards, and use as a shelf! Will work until I can find the right shelf. Let me know if you have one! Next Update will be for May 5th, Sunday - think that is correct.
2019-Mar-13 12:35pm EDT
| Tags :
---
Dig Antiques assumes no responsibility for the items listed for sale on DigAntiques.com. Any transactions as a result of items listed for sale through this Shop is strictly between the Shop and the Buyer. Please read the Dig Antiques Terms of Service for more information.