Rona Andrews Antiques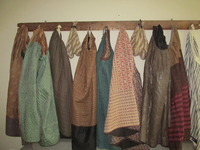 Rona L. Andrews
|
12 Russell Rd. #203 Wellesley, MA 02482
|
435-640-0701
|
andrewsrona@hotmail.com
OFF AGAIN...THIS TIME TO TN AND PA...HOPE TO HAVE SPECIAL GOODIES ON MY RETURN. If you're in New England, check out my spaces at Thos. Bartlett Antiques in Chichester, NH on Rte 4. And, I'm back at York Antiques Gallery in York, Maine! My selling policies include: Accepting personal check or money order, or Paypal FRIENDS AND FAMILY; If shipping to a MA address, MA tax of 6.25% will be applied to your costs unless a MA tax resale number is given. Your satisfaction is guaranteed. Customers may return items in the same condition as they are received within 72 hours of delivery for a full refund, less the cost of shipping and insurance when the item is returned and condition verified. Please call me at 435-640-0701 before returning any item. Thank you for shopping with me.
---
C 1900 tin heart cookie cutters, one with square platform and handle, the other without square. 2 ½", 3".
Price: $35, includes shipping
2019-Jan-25 02:53pm EST
| Tags :
---
Super 18th C American wrought iron heart trivet with 3 penny feet also of hearts. 9" x 4".
Price: $185, includes shipping
2019-Jan-24 02:42pm EST
| Tags :
---
Dig Antiques assumes no responsibility for the items listed for sale on DigAntiques.com. Any transactions as a result of items listed for sale through this Shop is strictly between the Shop and the Buyer. Please read the Dig Antiques Terms of Service for more information.