Rona Andrews Antiques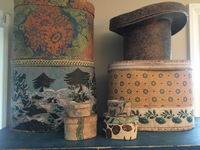 Rona L. Andrews
|
12 Russell Rd. #203 Wellesley, MA 02482
|
435-640-0701
|
rona.andrews7@gmail.com
LISTING THE CONDO THIS WEEKEND. I WON'T BE POSTING ANYTHING NEW ON MY DIG SITE FOR A WHILE. I WILL SEND OUT AN EMAIL WHEN I'M READY TO LIST AGAIN. THANKS SO MUCH FOR ALL YOUR SUPPORT! I AM STILL AT THOS BARTLETT ANTIQUES IN CHICHESTER, NH AND WILL REMAIN THERE THRU MY MOVING PROCESS.......My selling policies include: Accepting personal check or money orders within 5 days of sale. MA tax of 6.25% charged if you are a MA resident/or provide your tax exempt form. Your satisfaction is guaranteed. Customers may return items in the same condition as they are received within 72 hours of delivery for a full refund, less the cost of shipping and insurance when the item is returned and condition verified. Please call me at 435-640-0701 before returning any item. Thank you for shopping with m
---
This is an early hollow-cut silhouette of an 18th C gentleman with ribbon-tied hair and stamped "MUSEUM" for the Charles Wilson Peale shop (1741-1827). It is in a gold toned frame - 4 1/2" x 5 1/4" under an eglomise painted glass. According to the bio of Peale by Peggy McClard, Peale was born in Chestertown, MD. He "opened a Museum of Natural Science and Art" in 1795 in Philadelphia. He added his silhouette business in 1802. The majority of the silhouettes from this time were embossed "Museum". Peale had acquired a mixed-race slave couple and Peale taught their 11 year old son, Moses Williams, the art of silhouette cutting. It is WILLIAMS who cut most of the silhouettes that are stamped "MUSEUM". He was emancipated in 1802, married the Peale's cook, had a daughter and continued managing the silhouette cutting business until his retirement. Williams should be remembered as one of the earliest known African-American silhouette artists in the USA."
Price: Sold, thanks so much!
---
At 7 7/8" tall, this early 1700s hog scraper has the brass wedding band across the middle ~ it shows its age and is worn through and dented. Even without the chair hook, it is a well-used treasure. The candle lever does work and the cup is cleated into the base.
Price: Sold, thanks so much!
---
Dig Antiques assumes no responsibility for the items listed for sale on DigAntiques.com. Any transactions as a result of items listed for sale through this Shop is strictly between the Shop and the Buyer. Please read the Dig Antiques Terms of Service for more information.