Kindred's Antiques of Kentucky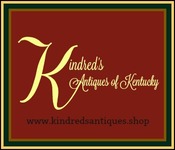 Mary Kindred
|
Lexington,KY 40503
|
(859) 382-0386
|
kindredsantiquesofky@gmail.com
Kindred's Antiques began over fifty years ago when J.L. and Louise Kindred fell in love, married then turned their passion for beautiful furniture into a full time career. The couple loved what they did and as their reputation grew so did their business. Their first shop was in downtown Lexington, Kentucky in the 1940's. By chance, years later, they moved into an old church where they spent over 45 successful years. Now that both J.L. and Louise have passed, their daughter Mary has continued the business. "It's in my blood." said Mary. "I have learned from the best." Kindred's Antiques is located in an old church. Not the same one but the legacy continues in a way that only happens by divine intervention. With a love for antiques, both country and formal, Mary is continuing the legacy that her parents began so long ago. You can now find the shop nestled in the historical community of Camp Nelson in Jessamine County, KY. Surrounded by Wolf Run Wildlife Refuge, the shop is currently open by appointment only. We hope you feel the love of history, the importance of investment and the magic that began a family business that has lasted over half a century. We are happy to be of service to you! Note: Shipping and handling charges are included in the price unless stated. We do not ship internationally. We offer local pick up!
---
Our culture is so laid back. Can you imagine what went into impressing your guests during a time when this lovely meat dome was at the height of fashion? Superficial excess was both an expression of wealth and status. This classic dome survived all those years to reemerge now much in the same way. When a dinner party took place in the late 1800's, game meat was presented under a meat dome. This is a fine example of a classic style meat dome by William Hutton & Sons, Sheffield, England, circa 1890. It has maintained it's glamour and carries with it light scratches and several soft dings. Overall the appearance is not affected by the aforementioned signs of the times. This dome has a simple beading over the handle and around it's base that compliments most silver patterns. The handle is removable which they did for storage purposes. It continues to remain impressive and the focal point of lavish dinner parties. Measurements: Height-12 inches includes handle Circumference-48 inches
Price: $225.00
2018-Apr-25 10:20am EDT
| Tags :
---
Dig Antiques assumes no responsibility for the items listed for sale on DigAntiques.com. Any transactions as a result of items listed for sale through this Shop is strictly between the Shop and the Buyer. Please read the Dig Antiques Terms of Service for more information.