American Cloth Dolls and Their Things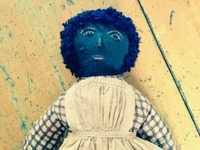 Kathy Schoemer
|
PO Box 42, Walpole, NH 03608
|
603.756.2985
|
kathyschoemerantiques@gmail.com
We accept PayPal and checks, and do lay-a-way. Free shipping !
---
c. 1880. Her body is stockinette and an open weave cloth, she wears a two-piece frock, her feet are pointed in different directions and her features are simply wonderful -- tiny faded red sewn smile, small, pinched nose, stiched eyes with tiny beads, and eyebrows. Remnants of a blue head covering remain. There is uneven staining from age and play but she is just as she wants to be. Does not sit easily. Makes a delightful companion. 2 photos.
Price: $235.
2019-Aug-04 12:07pm EDT
| Tags :
---
Dress is 16"long; rolled doll body with cotton lace fringe is 13". There's no denying the simple and homespun atmosphere of the early days of the republic. With a little turn of the hand, a body was rolled out of the most basic material, arms were rolled and sewn to the bodice, undergarments and dress added, and then the features and hair were drawn. Viola !! A doll which in this case has been treasured for more than 150 years. "Grace Monroe. Her doll " reads a card that comes with her, puportedly from PA. This dress is one of my favorite colors and patterns -- a bittersweet calico --, but it is heavily melted and worn. Face is the one we love with eyebrows , continuing to form a nose, and there are sausage curls on the back of her head. She is very quiet, but has a big presence. 2 photos.
Price: $575.
2019-Jul-31 12:37pm EDT
| Tags :
---
Dig Antiques assumes no responsibility for the items listed for sale on DigAntiques.com. Any transactions as a result of items listed for sale through this Shop is strictly between the Shop and the Buyer. Please read the Dig Antiques Terms of Service for more information.