American Cloth Dolls and Their Things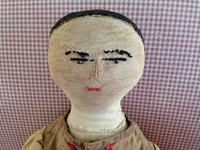 Kathy Schoemer
|
PO Box 42, Walpole, NH 03608
|
603.756.2985
|
kathyschoemerantiques@gmail.com
VERY EXCITING NEWS. We have just bought an extraordinary collection of cloth dolls, black and white, gathered over the last forty years, many unseen for decades. They will be offered in groups, or singly, as we begin the process of seeing Claire Tracy Glaser's cherished cloth dolls into new homes. We are pricing them as affortably as possible so all can share in the bounty. Listings will be added daily. Please stay tuned.
---
All of a sweet and simple nature, these girls from Tracy's cherished collection have their stains and some small issues, but have their strong points too -- big, wonderful hands on the big one, and wonderful homespun clothing on all. 2 photos.
Price: $595. for 4, plus shipping
2020-Jan-23 08:09am EST
| Tags :
---
Dig Antiques assumes no responsibility for the items listed for sale on DigAntiques.com. Any transactions as a result of items listed for sale through this Shop is strictly between the Shop and the Buyer. Please read the Dig Antiques Terms of Service for more information.