American Cloth Dolls and Their Things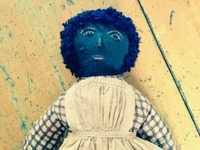 Kathy Schoemer
|
PO Box 42, Walpole, NH 03608
|
603.756.2985
|
kathyschoemerantiques@gmail.com
We accept PayPal and checks, and do lay-a-way. Shipping is free.
---
14.5" A country girl through and through, she is the true definition of an American 19th c cloth doll, with her very sweet red calico dress (sewn on), smiling penciled face and handmade pantaloons with black stockings. New England origin. 2 photos.
Price: $550.
2019-Mar-26 10:12am EDT
| Tags :
---
14". It seems that this dear old doll was made from 2 elements: a body from another toy and a wonderful homemade head, with all the details we love: woolen hair, embroidered features, pinched nose, and tiny teeth. c 1900. The body is woolen on top with velveteen pants and feet. Lovely, soft patina. A really sweet boy. 2 photos.
Price: $350.
2019-Mar-24 08:44am EDT
| Tags :
---
Dig Antiques assumes no responsibility for the items listed for sale on DigAntiques.com. Any transactions as a result of items listed for sale through this Shop is strictly between the Shop and the Buyer. Please read the Dig Antiques Terms of Service for more information.