Jacob Dorn Dairy Farm Antiques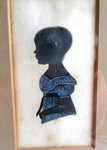 Sherry Spehar
|
Brighton, Michigan
|
810-820-0286
|
jacobdorndairyfarm@gmail.com
Good Day! I am Sherry Spehar, an antiques seller for over 25 years.My loves are 1700's and 1800's textiles, wallpaper boxes, woodenware, and country smalls.I do have some antique furniture as well that I will offer from time to time.I have been selling at good Tennessee and Midwestern shows.Every item is guaranteed to be authentic and as described.A money back return poiicy is in effect as long as you notify mewithin 72 hours of receipt and as long as that item is returned in as received condition.The refund will not include shipping,unless I have made a mistake in the ad. Extra pictures will be provided upon request. Paypal is the preferred payment.You need not have a Paypal account,just an email address.You can use your credit card via Paypal.Checks are welcome and will be held till cleared.Money orders are like cash.Layaways are welcome! Connect with me on Facebook under my name,Sherry Spehar. ***See everyone back here as soon as possible.Please stay safe.***
---
Measures about 8" long.Probably 1940's.Painted brown,white, and blue.The duck looks like it was used as a decoy.Light weight.There are 2 tiny holes on the bottom.Came from a Grand Rapids,Mich estate.
Price: $95 includes shipping
2020-Aug-12 02:59pm EDT
| Tags :
---
Five piece set includes ironing board, 7 1/2":blue painted wash tub 4 1/2" with 2 age cracks, tiny,heavy metal sad iron, blue and brown plaid cotton panel, and srcub board..Ironing board cover is attached old nails and has browned with age.
Price: $145 includes shipping
2020-Aug-07 03:21pm EDT
| Tags :
---
Dig Antiques assumes no responsibility for the items listed for sale on DigAntiques.com. Any transactions as a result of items listed for sale through this Shop is strictly between the Shop and the Buyer. Please read the Dig Antiques Terms of Service for more information.